Need fast cash? Can't wait until payday?
The High Cost of Payday Loans.
Perhaps that should read; Need fast cash? Can't wait until payday? Borrow money for only 400% interest. Payday Loan Fees can run between 390 to over 780% APR depending on the lender. To put it in perspective a Credit Card issuer typically will charge between 10 to 25% APR.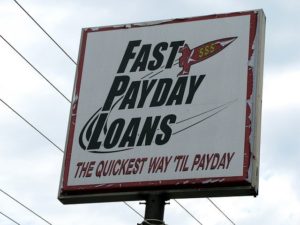 As we've mentioned in previous posts, there are more payday lending offices in the United States than there are McDonald's restaurants. And it is no wonder as to why. The payday lending business carries low overhead that yields high returns.
In fact, there are several states that have either passed or are looking to pass legislation to regulate the stiff fees charged for these short term loans. The following states have either made payday lending illegal or severely curbed the amount a borrower can be charged with implementing fee caps. This list continues to grow as states become more aware and take action to protect consumers.
Here is a partial list of states attempting to protect consumers from high fees, check your state's banking and finance department website or Attorney General's office for specific information related to payday lending.
Arkansas – State Constitution caps loan rates at 17 percent annual interest
Connecticut – Aren't Authorized
Georgia – Prohibited under racketeering laws
Maryland – Aren't Authorized
Massachusetts – Aren't Authorized
Montana – Maximum 36 percent annual interest allowed
New Hampshire – Maximum 36 percent annual interest allowed
New Jersey – Prohibited through criminal usury statutes
New York – Prohibited through criminal usury statutes
Pennsylvania – Aren't Authorized
South Dakota – Maximum 36 percent annual interest allowed
Vermont – Aren't Authorized
West Virginia – Aren't Authorized
Scrutiny of the Payday Lending Industry
While the Payday Lending practice has come under scrutiny for charging extremely high-interest rates, another black eye on the industry comes from the perceived exploitation of individuals with financial hardships. The majority of borrowers return many times over before getting out of the payday loan cycle. Washington state has implemented a cap on how many times a borrow can receive a payday loan per year at eight. Other states like Oregon, Maine, and Colorado permit lower cost payday lending.
We recommend that you try your best to avoid using payday loans as a short term solution to your financial needs because there is a proven propensity for recurring borrowing. Studies have shown that a high number of borrowers continue the borrowing cycle due to being placed in a further deficit by borrowing the money initially and not being able to recoup enough money to comfortably pay the initial loan off.
Still, with all of the scrutiny on the industry, the majority of states have either enacted legislation allowing payday loans, or they are vulnerable to loopholes that allow the industry to charge expensive fees for short term loans.
Start your own emergency savings account. Put as little as $10.00 per paycheck in it and borrow against it only when needed. This will help you resist the short-term temptation of easy albeit expensive short term cash. You can then repay the savings account on your own and avoid paying any interest fees.
Getting Help with Payday Loan Debt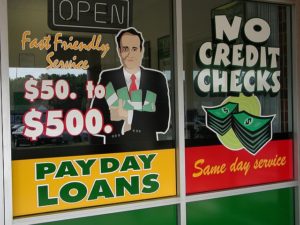 If you feel you've been taken advantage of by a payday lender that has charged you extremely high fees make sure to check the legal status of short-term lending in your state. Even if your state allows for high-cost short-term lending you may want to submit your concerns to your state's Attorney General. You can also contact the Consumer Financial Protection Bureau and submit your concerns there.
Not all payday lenders work with nonprofit credit counseling organizations such as ours, though thankfully some do. If you find yourself in a situation where you've become trapped into paying one payday loan in order to obtain another please give us a call. In many cases we can provide relief from payday loans through our payday loan help and consolidation services. Even if we are unable to work directly with your payday loan lender, we'd still be more than happy to provide a free credit counseling session aimed at identifying the root of the problem and coming up with a solution that will help you break the cycle.
If you have any questions, would like to discuss your financial challenges, or are just looking for advice, please call us at your convenience. As always, we are here to help and look forward to hearing from you. Call or submit your information through our website and one of our certified credit counselors will be in touch right away.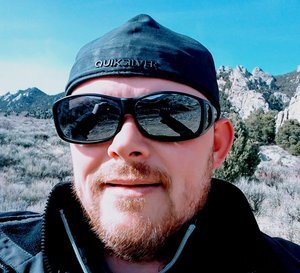 About the Author
Rick has been in the financial and credit counseling industry for over 20 years. He is currently a HUD certified housing counselor and has well over a decade of experience as a certified credit counselor. Rick writes regularly on matters relating to consumer finances and is a contributor for many publications on these topics.