We're a nonprofit debt relief organization licensed in all 50 states.
Less Than Full Balance Program (LTFB)
Some major creditors offer a program called "Less than Full Balance hardship" to their clients, which allows them to pay only half of their outstanding debts on default credit cards. This program is similar to Debt Settlement but with a few significant differences.
Pay only 50% of the original debt.

Monthly Payment Reduction by up to 50% or more

Upfront Creditor Agreement: Unlike Settlement, your creditors are paid monthly.

Applies to accounts that are in an R09 credit status, also known as "Charged Off" status
Learn More About Our LTFB Program
There is ZERO cost or obligation to you, and may improve your credit score over the duration of the program.
By clicking "Submit" I consent to receive calls and email message offers/information from Debt Reduction Services, Inc. using an autodialer/pre-recorded message at the number I provided. I understand that msg/data rates may apply and that my consent to such communications is not a requirement for purchase. If you would like to stop receiving text messages from DRS, simply reply to a received text with the word STOP.
The Creditors Participating: Wells Fargo, Synchrony, Portfolio Recovery Services, Resurgent Capital/ Enhanced Recovery Services, Bank of America, Chase, and TD Bank. Many more creditors will be starting soon!
Call Now and Speak with one of Our Certified Credit Counselors for FREE to Learn About Your Debt Relief Options
How it Works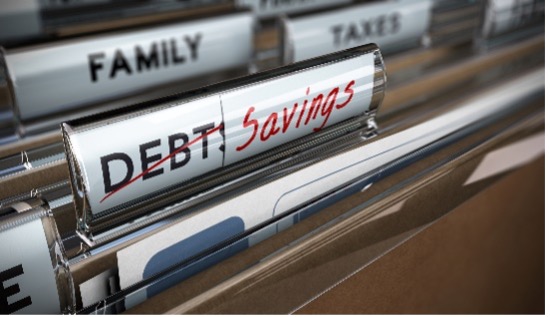 Credit counseling agencies can play a role in facilitating less than full balance arrangements between clients and creditors. These agencies are nonprofit organizations that offer financial counseling and debt management services to individuals facing financial difficulties.
Unlike Debt Settlement, the creditors agree to this arrangement upfront. When you make a payment, it is divided among each enrolled creditor to cover half of your balance.
In contrast, the traditional settlement approach holds onto the money, allowing you to default further and risking collection actions. Moreover, they only contact your creditors once they have saved an amount equal to half of your total balances.
Creditors may allow a less than full balance payment for a few reasons:
Financial hardship: If a borrower is experiencing financial difficulties and is unable to make the full payment, they may negotiate with the creditor to accept a reduced amount as a way to resolve the debt. This can be a mutually beneficial arrangement, as the creditor may recover at least a portion of the debt without having to resort to more aggressive collection methods.
Delinquency Status: Only accounts that are reporting to the credit bureaus in an R09 status, better known as "Charged Off," are eligible for a less than full balance agreement. These accounts are no longer accruing interest or fees through the original creditors due to the length of delinquency.
Partial Debt Payment: In some cases, creditors may agree to accept a less than full balance as part of a formal debt settlement arrangement. Typical Debt settlement involves negotiating with creditors to reduce the overall debt amount in exchange for a lump sum payment or a structured repayment plan. Creditors may agree to this option to avoid the risk of the borrower defaulting entirely or to expedite the debt recovery process.


With a Non-for-profit Credit counseling organization program, the creditors agree to this arrangement upfront. When you make a payment, it is divided among each enrolled creditor to cover half of your balance. Your original balance is half of the debt to begin with.

Time and cost considerations: Pursuing legal action or hiring collection agencies to recover the full amount owed can be time-consuming and costly for creditors. Accepting a reduced payment may be seen as a more efficient way to resolve the debt, especially if they believe that the borrower's financial situation makes it unlikely that they can pay the full amount.
Tax Implications
If you settle for an amount exceeding $600.00 of your overall balance, it is necessary to report the settled amount as income when filing your taxes. This requires filing a 1099 form.
Credit Report Implications

During the payment process, the creditors will report the status as "settled" on your credit report. However, once you successfully complete the LTFB program, the status will change to "satisfied." Additionally, the two collection agencies that participate, Enhanced Recovery Services and Portfolio Recovery Services, will completely remove themselves from your credit history upon completion of the LTFB program.
Why choose a Less than full balance by a non-for-profit agency versus a debt settlement agency?
Choosing a Less than Full Balance (LTFB) program offered by a non-profit agency can have certain advantages over opting for a debt settlement agency. Here are some reasons to consider:
Creditor agreement: LTFB programs through non-profit agencies often have pre-negotiated agreements with creditors. This means that creditors are more likely to agree upfront to accept a partial payment as settlement, making the process smoother and more predictable.
Creditor communication: Non-profit agencies in LTFB programs typically maintain regular communication with creditors throughout the payment process. This ensures that payments are distributed to creditors promptly and helps to build a positive relationship with them.
Reduced risk of collection actions: By enrolling in an LTFB program, you actively work towards paying off your debts, reducing the risk of collection actions. As payments are made to creditors, it helps demonstrate your commitment to resolving the debt, potentially avoiding legal actions or aggressive debt collection tactics.
Positive credit report impact: LTFB programs, when successfully completed, can have a more favorable impact on your credit report compared to debt settlement. While the process is underway, the status may be reported as "settled," but once the program is completed, it is typically updated to "satisfied." This demonstrates your commitment to fulfilling your financial obligations.
Non-profit assistance: Choosing a non-profit agency for an LTFB program means you are working with an organization that is focused on helping individuals improve their financial well-being. Non-profit agencies often provide additional resources, such as financial education and budgeting assistance, to support you in your journey toward financial stability.
In Conclusion
It's important to carefully evaluate your options and consider your specific financial situation when choosing between an LTFB program through a non-profit agency and a debt settlement agency. Consulting with a financial advisor or credit counselor can provide further guidance tailored to your needs.
That is why Debt Reduction Services/ Money Fit is the best choice for you. We are always on the cutting edge of new programs to help our clients with their debt. Call us today at 1-866-3328, to see if this program can work for you.