Learn about available student loan repayment programs.
Discover if you qualify for student loan debt forgiveness.
Find out about student loan debt consolidation without a loan.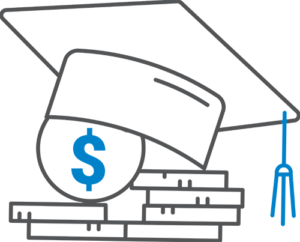 We're a nonprofit debt relief company, licensed in all 50 states.
We can help you end the stress of debt and escape the debt cycle for good.
Student Loan Counseling with Debt Reduction Services
Most Federal Student Loan Holders are eligible for Government assistance in the form of various repayment plans.  There are several different plans and options for a borrower to enroll in and they all provide different levels of savings. Some of these plans are simply based on income and dependents, and others are based on your profession.
Figuring out which repayment plan and what type of backend or upfront savings you could qualify for can be complicated in terms of calculating, applying for, and making sure you are applying for the best program for your current financial situation.
Please Watch the Video Below:
If you want more in-depth information or guidance, we can provide you with a live representative to walk you through the process and options.  This service only costs $99.00 for the walk-through and to be eligible for this service.
Requirements:
You MUST have access to Zoom or Skype so the representative can more easily guide you on what you are looking at and what may be the best program for your current situation.
You MUST have your FSLA ID ready.
No third party can file on your behalf or access your online Loan or Federal Student Loan Aid logins, so you must do this on your own. This is why the video call is required.
Our cost only allows for one hour of time, if needed, an additional $99.00 will be charged.
We are here to help you! If this is the option you would like to go with, please fill in the information below
By clicking "Submit" I consent to receive calls and email message offers/information from Debt Reduction Services, Inc. using an autodialer/pre-recorded message at the number I provided. I understand that msg/data rates may apply and that my consent to such communications is not a requirement for purchase. If you would like to stop receiving text messages from DRS, simply reply to a received text with the word STOP.
If you have a student loan issue, you can contact DRS at 877-688-3328 or do the following:
The CFPB is one of the federal agencies responsible for overseeing private and federal student loan products and services. You can submit a complaint through CFPB's online complaint system at https://www.consumerfinance.gov/complaint/ or by calling 855-411-2372